FREE Power Workout Routines
Unlock Your True Potential For
Massive Strength and Muscle Mass!
Enter your first name and a valid email address
for instant access to the free power workouts.

Meet Anthony Clark

Powerlifting Bench Press
Anthony Clark Powerlifter Bio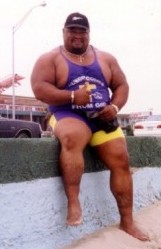 I came to the U.S. from the Philippines when I was seven years old. Everything was foreign to me. I had no friends, nothing to grasp onto. All the other kids thought I was weird and different because I was a skinny little kid living in a predominantly white neighborhood. Have you ever heard about the kid who got sand kicked in his face every day? Well, that was I. After years of having no self-confidence, I decided to do something about it.
I started with Sears 110 pound cement barbell and bench weight set when I was 13. I weighed a frail 120 pounds at that time. After months of lifting and being disciplined in my endeavor, other kids started to notice the change in the way I carried myself and the butt kicking stopped immediately. After lifting weights and gaining acceptance by my peers, I felt better, but there was still something missing - a void that needed to be filled. I still felt empty inside do to certain situations at home. Being physically abused by a family member I felt lonely and even suicidal.
Until one day at school, a special program was held for the students featuring the Jay Stack Crusade. He introduced me to Jesus Christ and from that point on, I felt really good about myself and my abilities. I began to set goals for myself and accomplished those goals. At 16, I decided I wanted to be the world's strongest man within five years. I started power lifting at 16 and also played football. I did quite well as a linebacker and fullback because I also had very good speed. I guess it was from getting my butt kicked every day as a kid! But I turned those years of humiliation into shearing dedication in the gym, as well as in the public eye.
By sharing my testimony and heart felt endeavors with the community, my hope was to help others be the best they can be if they just hang in there and look up. By being dedicated and disciplined in my power lifting, I've achieved greatness with the help God. The Lord gave this once skinny kid many great gifts and now I'm a powerful man not only in strength but in size also.
And now for the tale-of-the-tape: I'm 5'7 ½ tall and weigh 325 pounds. My arms measure 23 ½ inches cold. My chest is 61 inches. My shoulders measure a tape and a half while my forearms are 18 inches. My thighs 33 inches; my calf 21 inches and my neck 23 inches.
To go along with my incredible size, I am also blessed with great quickness. I play racquetball twice a week and I've been clocked in the 40 at 4.9. It is a must that a big guy like me also do cardiovascular work because you have to be strong in the heart as well as in the body.
One of my great pleasures is talking to kids and taking them on field trips; seeing them smile and be happy. I also love fishing and anything that presents a challenge because I love a challenge. I have worked as a bouncer at many clubs at one time or another and while the experience was good at the time, I didn't really achieve total satisfaction in that work. So, I applied for a job with the Harris County Juvenile Detention Center because I felt that this would be a self-rewarding job. I worked with kids ranging in age from 10 to 17, who had committed crimes ranging from shoplifters to murder. I worked there for five years; trying diligently to help these troubled youth straighten out their lives. I tried to help them understand that they are somebody and that someone does care about them.
My goal remains to help the kids of today be the best they can be without drugs and/or other crutches in their lives. In addition, my involvement in the community through various activities such as fund raising events, prison ministry and the Rotary Club, and I'm helping to spread my message of positive thinking and dedication to a purpose.
Perhaps one of the most exciting things I am involved with at present is "Anthony Clark and the Warriors". We are a power team that shares the gospel as well as a positive anti-drug and self-esteem message to kids. In our rallies you'll see us do feats of strength like break through blocks of cement, blow up hot water bottles, break through boards, Power lifting exhibitions and the entire time giving credit to God and sharing His message of new life through our Lord Christ Jesus.
This is a small list of Anthony's achievements.


First teen to reverse grip bench press over 600 lbs.
First man to reverse grip bench press over 700 lbs.
World record in squat 1,031 lbs.
World record in bench press 800 lbs.
World record bench/deadlift/squat: Total 2,600 lbs.
Over 20 world records broken since 1992.
© 2002-2016 e-normous.biz